While it's possible to simply travel to the cheap vacation spots outside Canada for fun, you can also catch some waves instead!
When one thinks of surfing, Canada might not be the first destination that comes to mind. But Canada boasts a stunning coastline with some excellent surf spots for enthusiasts and beginners alike. Besides, the Canadian Surf Association organizes several thrilling surfing events.
From the rugged beauty of the Pacific coast to the pristine shores of the Atlantic, Canada's surfing scene has been gaining popularity in recent years.
In this article, we will explore some of the best surfing destinations in Canada, where adventurous souls can ride the waves amidst breathtaking natural landscapes.
Top Surfing Spots In Canada
If you hope to enjoy river surfing with consistent waves, the locations below are your go-to.
Tofino
Located on Vancouver Island, Tofino is Canada's surf capital. Nestled on the rugged west coast of British Columbia, this small town is a mecca for surfers seeking epic waves and a laid-back atmosphere.
The Pacific Ocean provides consistent swells, making it an ideal spot for surfers of all levels. Beginners can take lessons from local surf schools. While more experienced surfers can tackle the challenging waves at places like Long Beach, Cox Bay, and Chesterman Beach.
Apart from surfing, Tofino offers visitors the chance to explore the ancient rainforests, soak in natural hot springs, and spot diverse wildlife.
Boasting a beach break spanning 35 kilometers, it's a must-visit for people around Vancouver Island.
Chesterfield Inlet, Nunavut
For genuinely adventurous surfers seeking a unique experience, Chesterfield Inlet in Nunavut is a hidden gem.
It's located in the Canadian Arctic. Chesterfield is a spot that offers a once-in-a-lifetime opportunity to catch waves amidst icebergs and stunning Arctic landscapes.
The waves here are created by strong winds, providing a thrilling experience for those brave enough to venture into this icy playground. Hence, having prior cold-water surfing experience and the right equipment is essential, as the water temperatures can be extremely low.
But overall, it's a top-notch location for one of the best surfing in Canada.
Lawrencetown Beach, Nova Scotia
On the other side of the country, Lawrencetown Beach in Nova Scotia is a favorite for East Coast surfing lovers.
Facing the mighty Atlantic Ocean, Lawrencetown Beach is known for its consistent swells and long sandy beach breaks.
The area attracts surfers around the region, creating a vibrant surfing community. Moreover, beginners can find gentle waves closer to shore, while more experienced surfers may challenge themselves with the more giant waves further out.
Jordan River, British Columbia
Another surfing hotspot on Vancouver Island is Jordan River, just a short drive from Victoria. This rugged coastline stretch has various breaks that cater to different skill levels.
The Pacific swells produce impressive waves, attracting seasoned surfers looking for a thrilling ride. Jordan River's beauty lies in its unspoiled nature, providing surfers with a tranquil escape from urban life.
It's basically one of the most famous surf spots in the country.
Ingonish Beach, Nova Scotia
Ingonish Beach, situated in the Cape Breton Highlands of Nova Scotia, is a picturesque destination for surfers and beach lovers.
This area benefits from a unique blend of Atlantic swells and warm waters from the Gulf Stream, providing excellent surfing conditions.
Beginners can take advantage of surf schools in the area, while more experienced surfers can tackle the challenging reef breaks.
Cox Bay Beach, British Columbia
Cox Bay Beach boasts consistent surf conditions throughout the year, making it an ideal destination for surfers of all levels.
The beach faces the mighty Pacific Ocean, where swells from deep in the Pacific produce impressive waves.
Experienced surfers may catch more giant waves during winter, while summer and shoulder seasons offer more beginner-friendly conditions.
The presence of different peaks along the beach provides surfers with various breaks, such that there's something for everyone.
Cox Bay Beach has several surf schools that provide expert guidance and instruction for those new to surfing or looking to improve their skills. The instructors are experienced, friendly, and safety-conscious, ensuring beginners feel comfortable in the water while learning the art of surfing.
Additionally, numerous rental shops are nearby for visitors who didn't bring their surfboards. You'll sure have a blast surfing at Cox Bay.
Sandbanks, Great Lakes
Sandbanks easily makes it to the list of top surf spots in Canada. One of the most impressive aspects of surfing at Sandbanks is the breathtaking natural beauty surrounding the area. As a freshwater lake, Lake Ontario can get chilly, especially outside the peak summer months. Hence, you need to wear an appropriate wetsuit to stay comfortable during your surfing sessions at Sandbanks.
In the warmer summer, a 3/2mm wetsuit should suffice, but as the temperatures drop, a 4/3mm or even a 5/4mm wetsuit may be necessary. Don't forget to bring booties and gloves, particularly during the cooler seasons!
The park boasts beautiful dunes, crystal-clear waters, and stunning sunsets that create a magical ambiance. The lack of urban development along the shoreline further enhances the tranquility and offers surfers a serene escape from city life. Sounds great, right?
Sturgeon Falls, Manitoba
One of the standout features of Sturgeon Falls is its uncrowded nature. Unlike popular surfing destinations, you won't find hoards of surfers competing for the same waves.
Instead, you can enjoy a peaceful and uninterrupted session, relishing in the blissful solitude only Sturgeon Falls offers.
The local surfing community in Sturgeon Falls is welcoming and tight-knit. Surrounded by friendly and passionate surfers, you'll have ample opportunities to connect with like-minded individuals who share your love for the sport. Whether you're seeking tips, camaraderie, or simply a good conversation about your latest ride, you'll find a warm and supportive community waiting to welcome you. This affords you enlightening conversations like the history of river surfing in North America.
While Sturgeon Falls may not have the massive, towering waves found in more renowned surfing destinations, its unique charm lies in its simplicity. The smaller waves allow for a gentle and enjoyable ride, perfect for those looking to savor the experience rather than chase adrenaline-fueled thrills. It's an excellent place to practice and refine your skills, particularly if you're new to surfing.
If you're a surfing enthusiast seeking a unique, off-the-beaten-path wave-riding experience, look no further than Sturgeon Falls, Manitoba.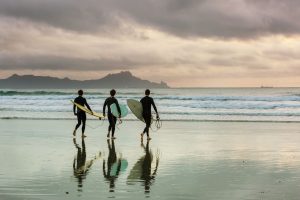 Kincardine Station Beach, Great Lakes, Ontario
Kincardine Station Beach is renowned for its stunning natural beauty and unspoiled surroundings. Sandy dunes flank the beach, and the crystal-clear waters of Lake Huron give a picturesque backdrop for every surf session.
The waves here are mainly wind-generated and are influenced by weather patterns, making it a popular spot for kiteboarding and windsurfing. Kincardine's sandy bottom and sandbars create a user-friendly environment for surfers of all levels, from beginners to experienced riders. The waves can pick up during windy days and storm surges, providing more challenging conditions for advanced surfers.
As with any surfing destination, being mindful of the weather and wind conditions is crucial for planning your surfing sessions.
Lake Huron's weather can be variable, so it's advisable to check local forecasts and wind patterns before heading out.
Martinique Beach
On Canada's east coast, Martinique Beach is renowned for its stunning natural beauty, with miles of soft, sandy shoreline and incredible dunes.
The beach is part of a provincial park, and the pristine surroundings are well-maintained. It's home to various coastal wildlife, and it's not uncommon to spot seals, seabirds, and other marine creatures during your surfing sessions.
Martinique Beach boasts consistent and reliable surf conditions, making it an excellent destination for surfers of all skill levels.
Ottawa River
Surfing on standing waves in a river requires specialized equipment and skills, often in the form of river surfing boards or bodyboards. With the right gear, surfing on the Ottawa River could be fun.
It's essential for anyone considering river surfing on the Ottawa River or any other river to have extensive experience in both traditional surfing and whitewater sports to avoid the risks.
River conditions can be unpredictable, and safety should always be the top priority. If you're interested in river surfing, you may join a community that profers training or advice accordingly. Who knows, you may learn how to make your personal river surfing board.
Over To You
Canada might not be the first place that comes to mind when considering surfing destinations, but its diverse coastline delivers some remarkable experiences for surf enthusiasts.
From the wild waves of Tofino to the icy Arctic waters of Chesterfield Inlet, Canada's surf spots cater to various skill levels and provide breathtaking natural backdrops.
So, whether you're a seasoned pro or a beginner looking to catch your first wave, consider Canada for your next surfing adventure – you won't be disappointed!